Battery MK 40ah 12v Gel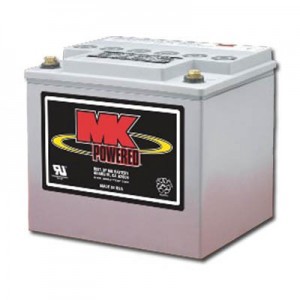 Made in the USA, MK is a benchmark name in cyclic gelled electrolyte batteries and is highly regarded for use in various motive applications.
Features & Benefits
Gel/suspended electrolyte - No liquid of any kind; battery is completely sealed. Safe in any position.
Less than 2% per month stand loss mean minimal deterioration during transport and non use.
electrolyte will not stratify, no equalisation charging required. Allows faster recharge
Sealed construction eliminates periodic watering, corrosive acid spills and fumes. Spill proof & leak proof
Specifications
Chemistry
Sealed Lead
Voltage
12V
Capacity
40Ah
Terminal 
C (6mm Bolt insert)
Dimensions (L x W x H)
197mm x 168mm x 174mm
Weight
14.5Kg
Pieces Per Box
1
Warranty
1 Year
Back to all products