Tenura Bottle Opener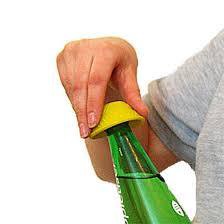 The Tenura silicone rubber bottle opener makes opening bottles and small containers easy for people with impairments to strength of grip. The Tenura bottle opener will allow you to achieve a comfortable grip on twist top bottle caps or other small containers and will reduce the amount of effort required to twist them open.
The Tenura rubber bottle opener is made from a silicone rubber that is non-toxic and safe for using in home, office, care and institutional environments.
Ideal for people who struggle with the opening of bottles and small containers.
Back to all products