Oppo Compression Women's Pantyhose, Beige, Closed Toe / 2 / Beige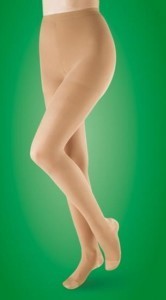 Relaxes the leg and helps improve blood circulation.
Wide band to prevent slipping and binding.
Reinforced heel for long-wearing performance.
Provides graduated compression to prevent varicose veins.
Sizing:
Measure circumference of the ankle, right above the round bones (malleoli) (cB), around the fullest part of the thigh (cG) and around the largest part of the hip (cH). Measure thigh height (IG).
Stock Code:
OPP-2881-2WBEG
Back to all products