Conni Micro Plush Waterproof Fitted Sheet - Double 137x188cm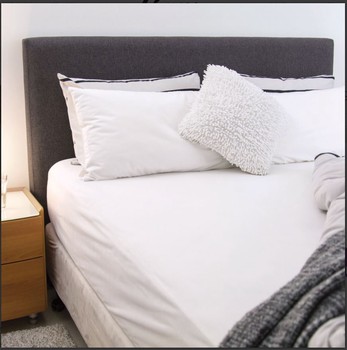 Micro-Plush waterproof mattress protectors are ideal for protecting your mattress from all fluids. The waterproof and absorbent fitted sheets keep your bed hygienic and stain free increasing the life of your mattress. 
Elasticised for a secure fit and with a 40cm depth wall to fit pillow-top mattresses, these comfy absorbent sheets are waterproof right down the sides for complete mattress protection. Can be used with or without an additional sheet. Soft and luxurious, breathable and quiet, you are ensured a comfortable sleep. 
There is widespread concern about the use of toxic substances in fabrics used next to the skin because of the negative and sometimes long-term effects on health. Unlike many incontinence products our Bed Pads, Mattress Protectors and absorbent underwear are free of chemicals and fragrances.
  These products are Oeko-Tex accredited and safe to use against the skin & we have created a proprietary blend of micro-fiber for our waterproof barrier in place of PVC due to its toxicity.
Machine washable and tumble dryer safe, these products can be used countless times!
For best results, wash with  WARM OR COOL water and a good quality laundry detergent. The Absorbent products dry quickly on the clothesline or in the tumble dryer on LOW heat. Too much heat can damage the waterproof layer.
Do not use fabric softeners
Do not use bleach
Size 137x188cm  
Stock Code:
MP-137188-00-1
Back to all products