BL Foam Cushion with Gel Insert, 450x450x50mm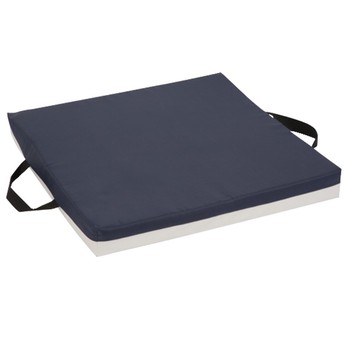 This combination foam and gel cushion is suited to people at low to medium risk of pressure injury and helps to relieve pain from prolonged sitting.
Low shear outer cover non-slip base Foam Cushion with Gel Insert CODE BL9375 BL9382 BL9399
Made from a gel bladder encased inside a resilient polyurethane foam cushion, this design helps the cushion to evenly disperse the weight of a seated person over a larger area, which minimises pressure points on the buttocks or thighs.
The water-based gel not only helps reduce direct pressure on the skin that might lead to pressure injury, but also provides a cooling effect to reduce heat an perspiration build up.
The high-density foam provides stability plus great comfort for prolonged sitting. The outer cover is low shear to prevent damage to skin as a result of friction – the damage that can be caused to delicate skin when it is dragged across another surface.
It also has a non-slip base to help stop the cushion from sliding off the chair. Two positioning handles at either side of the cushion make it easy for the user to reposition the cushion.  
Helps relieve chronic pain and pressure for users up to 110 kilograms. Made from a patented gel bladder encased in resilient PU comfort foam cushion for superior weight equalisation and pressure distribution.
FEATURES Gel bladder in resilient PU comfort foam resilient PU cover helps minimise pressure points comfort for prolonged sitting available in 3 sizes Height: 50mm Width: 400mm Depth:450mm Max User Weight: 110kg
Back to all products