Able Life EZ Door Knob Grips (2 pack)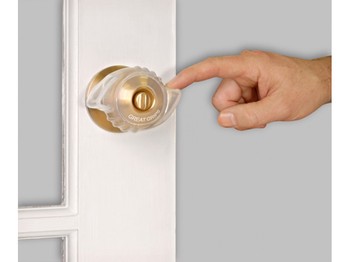 EZ Doorknob Grips makes it easy to turn round awkward doorknobs.
It's great for people with arthritis, young children, and senior citizens who may have trouble gripping the door handle.
Its comes in a pack of 2, and it's a great alternative to spending hundreds of dollars in door-lever replacements.
Open doors effortlessly Lower cost than a door-lever replacement Fits most doorknobs Includes glow-in-the-dark inserts for night-time visibility Keyhole is accessible
Specifications:
Dimensions of Product: 3" x 2", 1.6" Diameter       
Back to all products