Double Heel Wedge- Heel Support Wedge Pillow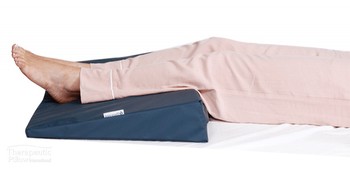 Width: 85cm   Depth: 45cm   Height: 10cm The Double Heel Wedge Heel Support Wedge Pillow is the best pillow for heel pain, foot pain, plantar fasciitis, bunions and heel spurs. The Heel Wedge Pillows are purposely designed to relieve heel pain and foot pain associated with debilitating painful heel and foot conditions. The Heel Wedge Pillow acts as a body bolster pillow for your heels, to help relieve pain from areas of pressure.
Keeping your Heel Raised
Wether it be heel or foot pain, heel spurs, bunions or plantar fasciitis, the Heel Wedge Pillow keeps your heels raised to ensure that pain and pressure is diffused away from your feet. When you need to keep your heels raised, there is no better pillow than the Heel Wedge pillow.
Heel & Body - Comfort & Support
Our Double Heel Wedge Support Wedge Pillow provides comfort and support for your heels where ever heel support is needed. The Single Heel Wedge body cushion is lightweight and convenient for travel, meaning that you can take this wedge cushion almost anywhere with you. Wether you are resting on the couch, in bed, or away travelling, the single heel wedge can be taken with you to give you Heel support where ever you need it!
The Double Heel Wedge Support Wedge Pillow can be used as a body wedge pillow where ever wedge support is needed! Utilising the Heel Wedge Pillow can diffuse pressure and improve circulation around your body wherever additional comfort and support is required.
Positioning Pad - Body Aligner Wedge Pillow - Visco Elastic Memory Foam provides comfort & support for your body
Helps protect the body's pressure points from pressure ulcers (bed sores). Distributes body weight evenly & reduces pressure. Under thighs - helps maintain pelvic tilt in pelvic traction & promotes proper hip alignment. Multi-purpose: Adjustability eliminates the need for different sizes of body pillows. Promotes air circulation for enhanced comfort whilst resting. Ideal for long term care patients or convalescents. Tailored in a moisture-resistant bacteria inhibiting (hospital grade) Steri-Plus cushion cover. Simply wipes clean for easy care and use.
Steri-Plus Cushion Cover
The Heel Wedge Heel Support Wedge Pillow comes in a Steri-Plus moisture and bacteria resistant cover that is ideal for all situations and settings. The Steri-Plus cushion cover is exactly that, a moisture and bacteria resistant strong simple cover that is soft to touch and durable to use. Our Steri-Plus covers have a special polyurethane ply (film) bonded to woven polyester fabric to give it a soft comfort feel.
Care Instructions
Foam Inner:
 Do Not Immerse in water. Dab clean, mild detergent, warm water. Do not machine wash. Do not tumble dry. Dry away from sunlight.
Cover:
 Steri-Plus (moisture resistant version): Do Not Use dry cleaning solvents, or phenolic disinfectants. Wipe stains by using a non-phenolic disinfectant in a diluted solution. Do Not Machine Wash. Do Not Tumble Dry. Do Not Iron. Line Dry Only.
Back to all products