FlexEze Heat Patch - Size 10 x 13cm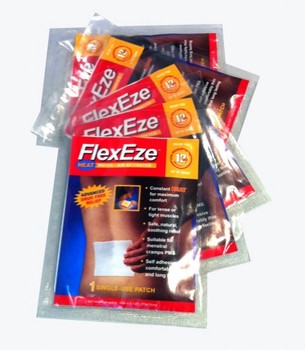 Features:
For tense or tight muscles
Suitable for menstrual cramps
Safe, natural soothing relief
Self-adhesive comfortably thin and long lasting FlexEze Patches are the safe, convenient way to relieve tense or tight muscles for up to 12 hours. Each patch contains a soft, flexible backing that adheres to underclothing and can be removed easily. It bends and flexes as you move.
FlexEze Air-Activated Heat Patches are designed to warm gradually and reach maximum heat in approx. 30 minutes. Air-activated, we recommend you do not open pouch until ready to use.
Warning: Do not use if you are diabetic or on areas that are swollen or bruised. Check with your doctor if you have poor circulation or are pregnant. If you have rheumatoid arthritis - consult your doctor or pharmacist before using to determine if heat will be helpful
Back to all products