Evocare Pressure Care Mid Mattress (2000 x 1000 x 150) 150kg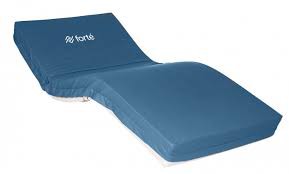 King Single Evocare Pressure Care Mid Mattress (2000 x 1000 x 150) Max Weight Capacity 150kg
Foams
Visco–flex  is a visco–elastic foam (apparent density of 15 to 100 kg ⁄ m3) which provides very slow recovery cushioning for even pressure distribution and supreme comfort. It provides ideal comfort without full reliance on body heat to soften the foam. Visco–flex has a very low resilience level that cradles the natural contours in your neck, shoulder, back and knees giving you a sense of weightlessness.  Hospital Grade  foams are high-density (apparent density of 20 to 40 kg ⁄ m3) conventional type foams that are flame retarded. These foams are specifically developed for the use in health care mattresses. They are manufactured with Ultra–Fresh® anti–microbial protection for a healthier environment.
Specially selected grades of foam in three layers (four for Maxi) create a mattress suitable for the type of user and give a good balance between weight (% indentation) and firmness (hardness).
Cover
The flexible polyurethane coated fabric gives high waterproof capability with breathability. The multi-stretch capability of the fabric has obvious benefits for pressure care, the reduction of bed sores and a decrease of skin shear.  The fully enclosed mattress, with its waterproof, yet vapour permeable, multi-stretch, bacterio-static and fungo-static polyurethane cover, is easy to clean and disinfect ensuring maximum hygiene for patients and caregivers.
Pictures for illustration purposes only
Back to all products