Natural Lupin Heat Pack – Rectangle Shape Natural Heating Pad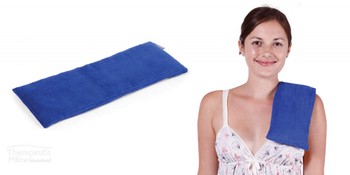 Size 33x13cm.
Rectangle Heat Wrap / Natural Heat Bag. The all natural alternative to relieve aches and pains that's suitable for all parts of the body.
Quick microwave for easy heating.
Freeze and use as a cold pack.
Suitable for all parts of the body. 
No odour.
30% lighter than wheat heat bags / packs.
Made from Australian lupins.
Allergy and odour free.
Not treated with chemicals or fungicides.
Heat is Longer lasting that traditional wheat bags.
Care Instructions
Sponge your lupin bag lightly with luke-warm water to remove surface marks, being careful not to saturate product. Hang up to dry as soon as possible. When cover is dry, rub lupin bag briskly between your hands to ensure grains are dry. Do not tumble dry. Do not dry clean. Do not machine wash. Do not immerse in water.
Handmade in Australia from Australian lupins the Therapeutic Goods Administration (ARTG) number 106788. The fabric is 100% natural cotton corduroy.
Back to all products