Oppo 2034 Light Knee Stabiliser / S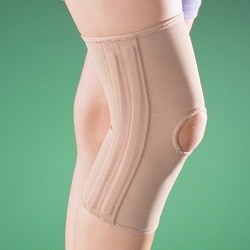 Features:
Open patella design may be positioned to stabilize the patella.
Four spiral stays provide additional support and stability for the knee.
Flexible spiral stays on both sides of knee provide support without limiting movement.
For arthritic knee conditions, minor sprains and strains.
Easily slips on and remains securely in place without bunching or rolling.
How to Wear:
Hold the top of stabilizer using both hands, one on each side.
Insert foot into stabilizer and pull up to the knee.
The opening should be over kneecap.
Each two stays should be on each side of knee.
Application:
Arthritis
Knee strain/ sprain
Knee instability
Patellar instability
Back to all products