Novis - Ornamin Vital Thermo (HOT/COLD) Mug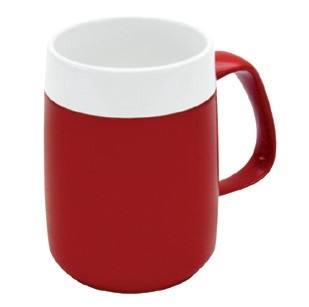 Capacity 200ml  Dimensions - 80x108mm
 A range of eating and drinking aids designed with strong colour contrast to improve recognition of food and to help to stimulate the appetite. Dementia patients will find it easier to focus on the task at hand; increasing the amount of calorie intake. Non-slip bases provide a stable platform and bowls and mugs are designed for ease of use under a range of conditions. An innovative range of tableware as simple as it is ingenious. Designed to keep food warmer for longer, these products are ideal for slow eaters, ensuring that the meal or drink stays warm and flavoursome right to the last mouthful.
Through a special opening in the outer wall, the plate or bowl can be filled with hot water to help keep the food warm. At the same time, it helps reduce the risk of burns while keeping the heat on the inside where it is needed.
Alternatively, the tableware can also be filled with chilled water to help keep food items cold as needed.
Made from a high-quality melamine inner with an external thermoplastic material outer and two grip inserts made of a soft, non-slip silicone plastic. The handles provide a firm hold while also covering the fill holes to prevent the hot or cold water from spilling.
Key features
Colour contrast rims for easy identification of food Non-slip bases Double handled cups designed to assist people with tremors Encourages independence Designed and manufactured in Germany
Back to all products