Homecraft Revo Griplock Reacher / 66cm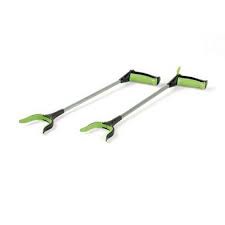 Homecraft RevoReach Revolutionary Design
Sleek and modern, the RevoReach™ has been designed with you in mind. The contemporary design is robust and uses ergonomic principles to make it as comfortable to use as possible. 
Features:
Lightweight & Well Balanced:  The correct balance of a reaching aid can be a significant factor when it comes to providing optimum control and a secure grip. That's why the RevoReach is designed so that the weight is distributed towards the handle making it easier to control. 
Ergonomic Handle:  The chunky handle design helps to reduce finger and wrists strain and the slip resistant coating provides additional grip.
Three models available to suit user requirements:
RevoReach Xcel:  This robust reacher benefits from an ergonomically designed handle with a trigger that requires minimal finger extension and allows the use of all fingers for a more powerful grip. The short trigger design is ideal for anyone with arthritic fingers or a weak grip
Long - 810mm - 230g
RevoReach Select:  A traditional trigger design that provides precise control. The trigger is extended to allow four fingers to be used and is also closer to the handle than traditional reachers to reduce finger extension and allow a stronger grip. The soft touch, ridged handle provides a comfortable and secure grip.
Standard - 660mm - 200g
RevoReach GripLock:  This unique reacher has additional features, making it as easy to use as possible. The GripLock benefits from an innovative locking mechanism that allows the jaws to be locked in place once an item is gripped, enabling the user to concentrate their efforts on moving the object, rather than maintaining their grip of the item. There are three main functions of the lock:
Standard Lock  - The standard locking feature allows the lock to be engaged using either the thumb or hand to turn the locking catch. This allows the user to grip and object then engage the lock once they have achieved a secure hold
Grip & Hold  - This innovative function allows the lock to be set so that as the trigger is squeezed, the jaws automatically lock. This is ideal for anyone who lacks the dexterity to use the lock catch when gripping and item, and is also very useful for gaining a tighter hold on and item that has already been gripped
Fine Tune Grip  - a useful feature that allows the jaws to be locked half way so they have a smaller range of movement. This is a useful function when picking up smaller objects as it allows a more precise grip and allows the reacher to retrieve items from tight spaces. 
Standard - 660mm - 220g
Long - 810mm -240g
Stock Code:
PAT-091204791
Back to all products