Sentida 03 T Maple 4 Part Rails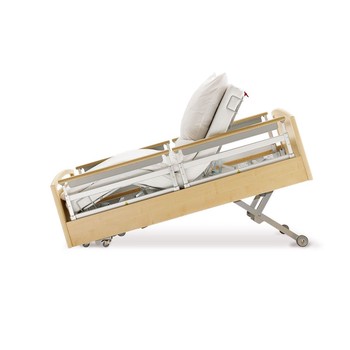 The Wi-Bo Sentida 03 bed has electric high low, electric backrest, electric kneebend and trendelenberg. With the ability to lower this bed to within 25cm from the floor it is the ideal model for a dementia/high falls risk application. Known for its ambient non-institutional appearance.
The Sentida's other features include:-  Maximum height of 80cm reducing risk of back strain  Minimal gap between edge of mattress surface and side guard  Double retracting sleeping surface to reduce friction & shearing forces. Also has been proven to aid in meal digestion  Vertical raise therefore no holes in walls ( not scissor action )  Underbed clearance for mobile patient lifters  Hand control has resident lockout for dementia residents  Robust hand control with 2 button operation reducing risk of accidental bed adjustment  Electric braking function on handset as well as foot end brake bar  2000mm sleeping surface equipped with intergrated 20cm bed extension (just require extension in-fill & foam bolster to close gap )  Australian Standards approved  3 year electrical/ 10 year frame warranty  Compliance with new standard IEC 60601-2-52  Quality German made construction
Sentida 03 Bed - Aero Sleeping Surface, Wooden Decor Maple, 4 Part Divided Side Rails, T Style Head and Foot Boards, without battery backup, fixed direction wheel head end and double castor with brake at foot end. Each bed rail on either side is divided into 2 parts so that one half can be raised up while the other half can be left down, or both halves can be up/down at once (ie. The rails do not come as a single full length rail). A wider size model is available, but this has a 12 week ETA on orders. Please request quote for this option if needed.
Back to all products