Shear Comfort Neonatal Sheepskin Overlay - WHITE - 50cm x 30cm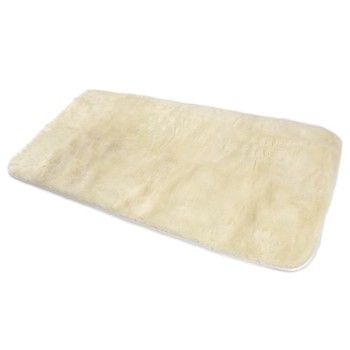 Comfort for babies' and toddlers' delicate skin.
At a size perfect for newborns, the Neonatal Overlay is small enough to place in an incubator, cot, or Moses basket to protect your baby's skin and help them sleep soundly. 
For older babies or toddlers, the Paediatric Overlay fits perfectly in a pushchair, cot bed, or even on the floor for a cosy patch of Sheep's wool to rest and play on. Neonatal Size: 50 x 30 cm Paediatric Size: 74 x 45 cm   Did you know?
There have been a number of studies that illustrate the benefits for babies sleeping on and under wool:
The rate of weight gain in underweight new-borns was 61% higher when sleeping on a wool overlay compared with a cotton sheet
Jaundiced new-borns sleeping on wool were more settled when sleeping compared with those on cotton. Only around 30% of babies on wool cried compared with 67% on cotton
Shear Comfort XD1900 
Fabric-backed medical sheep's wool, unique to Shear Comfort
XD1900 is medical sheep's wool unique to Shear Comfort, with a fibre density higher than even the very best natural sheepskins - which gives it superior pressure redistribution properties.
This is achieved by weaving natural wool to a fabric backing, and is not to be confused with artificial sheepskins created from synthetic 'wool.' We use natural wool, and treat it to ensure it can be repeatedly washed up to 80°C. Plus, because XD1900 has no leather backing, it can be washed with normal household detergent. 
Shear Comfort Natural
Our original medical sheepskin, on the original leather backing
The Shear Comfort Natural skins can be washed with Shear Comfort Wool Care Shampoo, or another appropriate leather wash at temperatures up to 80° C.
All Shear Comfort products are machine washable, and guaranteed against deterioration for up to 50 washes.
Price: $110.00
Stock Code: XDNO
Back to all products