Freedom Aluminium Shower Chair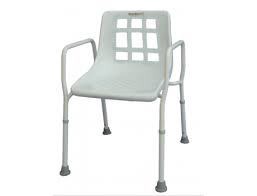 Constructed from aluminium tubing.
New "S" bend design provides maximum space for the patient to fit between the arm rests.
The seat is made from a high-density plastic to minimise flex.
This product offers a higher safe working load.
 Super light aluminium frame.
Fitted with rubber suction tips.
That is 3x thicker than normal coating to prevent scratches
Weight Capacity up to 140kg
Overall height: 79-94cm Overalllenght: 64am Overall Width: 60cm Seat Depth: 41cm Seating Width: 49cm Armrest Height: 21cm Seating Height: 44-59cm
Back to all products