Vulkan AE Wrist Support Pink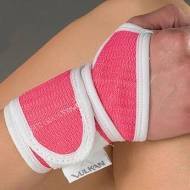 The Vulkan Advanced Elasticated range is the latest innovation in lightweight supports. The range has been technically developed using Nano Flextra™, a superior performance material with multiple functions.
This means that each support not only provides uniform support & compression, but has unique heat retaining properties that increase blood flow around the joints during activities to speed up the body's natural healing process.
The advanced Nano Flextra™ material also contains antibacterial properties to encourage cellular growth and the cross-sectional design helps remove excess sweat from the skin, keeping the skin dry, comfortable and odour free.
Features  
One size fits all support to help aid weak, injured or swollen wrists.
Features a thumb loop, designed to secure the support in place.
Universal design to fit both left and right wrist.
Sizing -  One size fits most
Stock Code:
PAT-091323708
Back to all products