Handi Lift Walk / Transfer Belt / S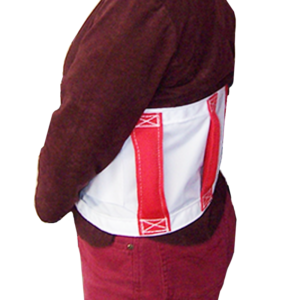 The Handi Lift Walk Belt is a popular transfer belt. You can use it for transferring people, and when walking with people who need help.
Two Carers normally work together when using the Handi Lift Walk Belt. If necessary one Carer with training can work alone, depending on the person.
The security of the double Hook & Loop Tape belt is very supportive, and all the handles are fully padded.
Lining Options
This product is available in either:
Standard white nylon material lining or Grey Miracle Grip rubber lining
The rubber grips to clothing very well. You can possibly still get some slipping between the clothes and the skin, so there is not a great advantage. We normally recommend the standard white nylon material lining for most people.
Soft Transfer Belt  is narrower at the front and may fit better.
About the Extra Extra Large Size
All sizes have 4 vertical handles, except for the Extra Extra Large size, which as 6 handles. This size is designed as a bariatric belt size. The extra handles mean that more carers have something to hold onto if necessary. We are happy to quote on custom-made larger sizes.
Back to all products