Days Whirl Wheelchair 18" / Self-Propelled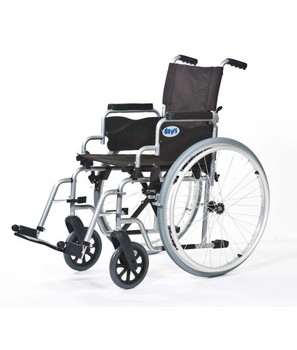 The Days Whirl Wheelchair is designed to be a simple yet versatile wheelchair ideal for part or full-time use with a range of features to accommodate different user needs. The Whirl is available as attendant-propelled or self-propelled.
The Days Whirl's narrow frame and compact dimensions ensure great manoeuvrability indoors and in confined spaces. Its puncture-proof tyres, in contrast, provide extra peace of mind outdoors. 
Features
Quick release wheels (for transport)
Removable armrests
Swing away and removable leg rests
Solid tyres (no maintenance required)
Specifications
User Weight: 120kg
Weight: 16.8kg (complete)
Seat Width: 450mm
Seat Depth: 430mm
Backrest Height: 440mm
Seat Height - Front: 500mm
Seat Height - Rear: 475mm
Overall Width: 640mm
Upholstery Nylon (Flame Retardant)
Colour: Silver Warranty: 12 months on frame & crossbars
Stock Code:
KUN-WHIRL45SP
Back to all products