Aidacare Let's Go Out Outdoor Walker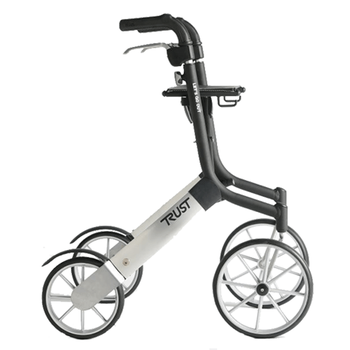 The large front wheels make it easy to manoeuvre, turn around and cross over pavement kerbs. The rear wheel fenders protect your clothes from getting dirty. Shock-absorbing suspension on the rear wheels makes it run smoothly on all surfaces.
Let's Go Out Outdoor Walker has ergonomically shaped rubber handles, height adjustable from 78 to 96 cm. There is an effective brake and parking brake, which are easy to operate. No visible wires. Let's Go Out Outdoor Walker is tested and approved according to ISO regulations for a user weight of 130 kg.
The rear wheels of Let's Go Out Outdoor Walker have built-in soft rubber suspension to give a softer ride when you are walking on rough surfaces. TrustCare's outdoor rollators are the first in the world with this feature
The seat on Let's Go Out Outdoor Walker is made of black artificial leather, soft and comfortable to sit on, yet durable and water resistant.
The rollator is kept unfolded by a lock under the seat. To fold the rollator, lift the seat from the hole in the middle. The lock is then released, and the rollator folds up. To unfold the rollator, press the seat down
The front wheels on Let's Go Out Outdoor Walker are made of soft rubber, 24.5 cm in diameter, with ball bearings, which make it easier to climb over obstacles with the rollator, such as pavement kerbs.
The ergonomically designed rubber handles on Let's Go Out Outdoor Walker give a firm and comfortable grip. The raised front part of the handle is designed to give a more comfortable grip. Under the handle is the brake lever with an adjustment screw for adjusting the brake wire.
Measurements & Weight
Handle height from 78 to 96 cm Seat Width:41 cm Seat to Floor Height: 59cm Max User Weight: 130kg Weight 6.5 kg
Back to all products