ATP Science 100% Noway Bodybalance HCP Protein 1kg Strawberry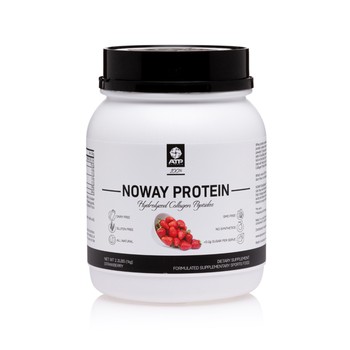 Noway is just that – No Whey. For those that are ready to ditch the dairy, find they have a sensitive stomach and want the benefits of supplementing with collagen while filling in your protein requirements; then read about the research below on how collagen protein is beneficial for the body. BodyBalance hydrolyzed Bovine collagen is extracted at a particular temperature to keep the aminos and their peptide shuttle intact, they are semi digested from the process at which they are extracted making it extremely bio-efficient for processes in the body!
NOWAY BODYBALANCE™ has excellent bioavailability and bio-efficacy
NOWAY BODYBALANCE™ is a unique combination of bioactive dietary peptides (very absorbable protein) from hydrolysed bovine collagen. What this means to you is that you will be taking the most biologically available protein, which has been already broken down in a vastly superior absorbable form to target your muscles for maximum growth. The bioactive peptides do not need to be digested further and are absorbed intact and delivered to your muscles where they work like a 'lock and key' to induce a specific function. The peptides then are broken down to release the amino acids at the target site. Studies have found that you can achieve 3 x more muscle growth than whey, 2.5 x more fat loss than whey and 3.75 x more muscle power than whey.¹
NOWAY BODYBALANCE™ is made using a unique process recreating a digestive process with specific acids and enzymes capable of making a specific functioning blend. This means half the digestion work has been done for you! Your body can then focus on getting the peptides and amino acids into the muscles where they belong for vastly better results than Whey alone.
FEED COLLAGEN
But this is not simply a great form of protein. Remember, whey is good but collagen protein is better. Were you aware that collagen is the most abundant protein in the human body? 30-40% of all the protein in your body is made of collagen² NOWAY BODYBALANCE™ is a hydrolyzed collagen protein, meaning it feeds the 30-40% of your body protein Whey barely touches, as well as the other 60-70%. This means better results, and given the hours you spend in the gym each week, you deserve them.
Did you know that less than 10% of your skeletal muscle mass is made up of collagen yet, 30% of your strength and power comes from this collagenous connective tissue? If it is power and performance that you are after, then you need to feed your collagen.
Unique amino acid profile
(these include high amounts of hydroxyproline, bioavailable arginine and glycine)
Hydroxyproline is unique to collagen.
It is not found in whey or vegetable proteins. Hydroxyproline is the major amino acids working with the bioactive peptides responsible for the enhanced collagen support seen with NOWAY BODYBALANCE
High levels of bioavailable arginine
As the collagen peptides are absorbed intact and the amino acids are liberated in the periphery; arginine can bypass the issues with oral absorption of L-arginine from the gut and deliver it directly to the peripheral tissue.
Arginine induces NO vasodilation in the microvasculature of the muscle Arginine aids creatine synthesis and replenishment Arginine is involved in protein synthesis
High levels of Glycine
Works with arginine for creatine synthesis
Works with the hydroxyproline for connective tissue synthesis
Most simple amino acid building block / precursor for several pathways involved in;
Antioxidant defence systems
Glycogen replenishment
Neurotransmitter function
DEMONSTRATED IN NOWAY BODYBALANCE™ SCIENCE
Proper training can build muscle Proper training with adequate macros (protein, fats and carbohydrates) improves your results from training Making 15 grams of NOWAY BODYBALANCE™ part of your daily protein allocation can amplify your results significantly
Back to all products