ATP Science Health Pillars Combo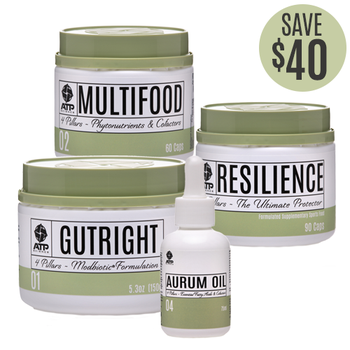 Includes:
1x Gutright 150gm
1x Resilience 90 capsules
1x Multifood 60 capsules
1x Aurum Oil 75ml
In a society where our food consumption is largely supporting the proliferation of increased levels of bad bacteria, the importance of modulation could never be as great as it is now.
Reduce Inflammation Improve Micronutrient Utilisation Decrease Dysbiosis
GutRight by ATP is taking modern science and mixing it with the modern man/woman to create the most effective gut support formula available today.
Resilience is defined as an ability to recover from or adjust easily to misfortune or change. And this is what this product from ATP Science is formulated to do, which is why we called it "Resilience." Resilience is a powerful blend of shielding and fortifying herbs and spices:Turmeric, Reishi, Frankincense, Myrrh, Artemisia, and Amla.
Multi Food offers a 100% organic food source, derived from reputable farming practices with absolutely ZERO synthetic compounds in the quantities your body requires. It provides anti-oxidants, synergistic mineral combinations and key plant, fruit and tree extracts known for their benefits in improving gut health, vitality, metabolic health and blood sugar regulation.
Functional and structural problems associated with deficiency and/or imbalance in dietary oils may include:
Cardiovascular disease. Metabolic disorders and insulin resistance. Brain cognition and processing issues. Mood and behavioral problems. Visual disorders. Chronic inflammation and immune dysfunction.
Stock Code:
ATP-PILLARS-COMBO
Back to all products