Cap Hand Wound Table - 1200mm x 650mm top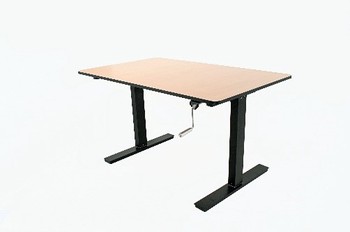 The Hand Wound Tables can be designed to suit any child or adult whether they are able bodied, have a disability or use a wheelchair. In an ideal world most tables would be height adjustable to achieve a ready sitting posture, a versatile height for the whole family to use and a Sit – Stand work environment. For children a ready sitting posture minimises fatigue and maximises focus and concentration, giving them the greatest chance of participating, completing and enjoying a tabletop activity. For adults a Sit – Stand work environment encourages movement and reduces back pain.
They offer two Hand Wound Tables frames to choose from. The low range table adjusts from 505mm to 785mm, our high range from 660mm to 960mm.
This is a local supplier who manufactures all of the table tops in their Brisbane workshop, and can also make a custom top to suit your requirements. The tops can be made with custom cut-outs, cable ducts, pencil holders and ergonomic shapes.
The Hand Wound Tables are steel framed, strong and stable. The table frames they use have minimal plastic components and are engineered to last. The height is adjusted using an easy to use smooth motion crank and as no electricity is required, the table can be used anywhere. The winding mechanism is located to the right-hand side of the long or working side of each table and when the desired height is reached the crank handle can be removed to prevent unwanted adjustments.
Electric Lift Table  frames tables in a range of height adjustments.
Of course, making customised tables to suit your individual situation is what they do best. If you can't find what you need then just ask our friendly staff at WOW! Mobility and we will get a specialised quote done up for you.
They now offer a Tilt top option for all of the Hand Wound Tables. The Tilt Top has 5 angles of inclination and a soft close function to minimise the chance of jammed fingers. They include a removable rail to help keep books in place when the top is in tilt.
Technical Specifications
The Hand Wound Adjustable Table frame is constructed from powder-coated steel in black. Please note that the Hand Wound Table frame is available in  BLACK ONLY.
Tabletops are finished with highly moisture resistant Laminex with rounded corners and rounded PVC edging in your choice of colour. Cream, Olympia Blue, Olympia Green, Oyster Grey, Parchment, Olympia Yellow, Pillar Box Red, Beech or White.
Back to all products