Burmeier Gigant Heavy Duty 4 Section Electric Bariatric Bed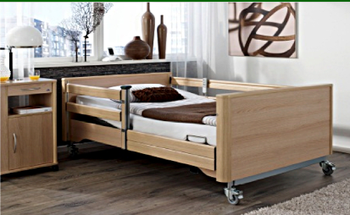 Mattress not included
SAFE working load of 350kg  
The mattress base of the "Gigant" can accommodate a safe working load of 350kg (body weight + mattress + bedding + bed pole hoist etc. < 350kg). Residents weighing up to 280kg will appreciate the generous 1200mm wide mattress base, and the length can be extended to 2200mm if necessary (bed extension available as optional accessory).
This care bed "Gigant" is extremely solidly constructed, so that it fulfills the requirements in daily care perfectly. The high quality ensures you have a nursing home bed which is durable, robust, easy to maintain and which decisively minimizes follow–up costs.
Performance
4–section mattress base 1200 x 2000mm, mattress surface height adjustment from 400 to 800mm, powered adjustment of back rest and thigh rest (auto–contour) as well as the height of the mattress surface. The footend of the bed can be lowered by tilting the mattress base using the hand control to facilitate a chair position.
24 Volt Drive System as standard
For the safety of patient and user, low-voltage 24 volts is produced by means of a central control unit transformer. All drive motors and the hand switch are hooked up to the central control unit by plug-in connections and work with the 24 volt safety low-voltage
Mattress Code – Gigant Heavy Duty Bed - EV9743 –  Maxi  Pressure Care Mattress 2000 x 1200 x 180 (Bravo Cover)
Length: approx. 2220mm
Width: approx. 1340mm
High / Low: 400 to 800 mm, range = 400 mm
Mattress Base Size: EV94B4GT (Beech) 1200mm x 2000mm
Backrest: 0° - 70°
Knee break: 0° - 26°
Foot end down: To 10°
Side Rails: DSG – Continuous Side Rail on one or both sides  KSG – Combined Side Rail on one or both sides
Finish: Frame - Polyester Powder Coated  Wooden surround with integrated side frames.  Working timber areas melamine covered—0.6mm.
Back to all products