CuroCell Cirrus 850 Air Mattress & Pump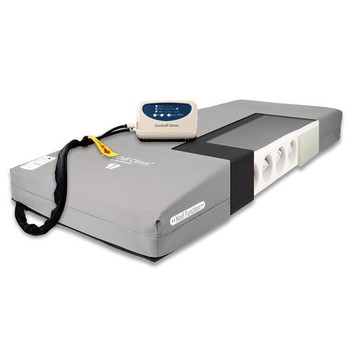 CuroCell Cirrus 2.0 Mattress for pain therapy and pressure reduction. Alternating air replacement system with pump, soft foam surface for high user comfort, liquid resistant and vapour permeable cover. 230 kg SWL. 850mm x 20000mm x 210mm. Compatible with Sentida bed frame.
The Cirrus system represents a new generation of dynamic air mattress systems that provide pain management as well as pressure reduction. Because of its unique construction combining air with a visco soft foam surface, this provides a special degree of user comfort as well as significant pressure reduction. The foam structure incorporating the alternating cells, is key to the pain management and enables the user, in any position, to obtain a comfortable and relaxed posture. The unique 'heel slope' and anti-shear inner cover further enhance the users comfort and protection.
The very quiet pump is appreciated by all carers.  Suitable for very high risk clients, and also medium to high as a preventative measure  Dynamic air replacement mattress system  Treatment up to and including sore degree 4  Suitable for user weight from 0 - 180kg  Comes complete with an anti-shear inner cover which has been proven to reduce pressure by up to 8%  Easy to use digital pump  2 year manufacturer's warranty
Back to all products