Inovia II Care Bed King Single Bariatric SWL 225kg - Bed Only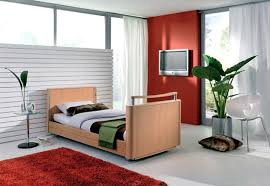 Key Features:
4–section mattress base 900 x 2000mm ⁄ 1000 x 2000mm, with easy to clean, robust steel slats, metal colour "Titanium". Adjustable Retracting back support (0° – 70°) reduces compression of the stomach and together with the knee–break elevation, plus upper-leg rest assists in optimising health and comfort. Inovia II care comes standard with a tilt function which allows the bed to be transformed into a chair position.
  Excellent hoist clearance allows the hoist to be moved in ⁄ out from underneath the bed. This helps prevent injury to staff caused by struggling to push ⁄ pull the hoist out from underneath the bed, where it can sometimes become caught. It also allows for the hoist to be positioned in the optimal position for client transfer, ensuring the client remains well positioned and safe at all times during the transfer.
  The castors can be locked in pairs, either front or back. Wooden surround in beech finish with working timber areas melamine covered.
  Inovia II care can be lowered to a floor-to-bed height of just 220mm; providing increased safety to clients who are at risk of falling out of bed. In the lowest position the bed rails can be kept down or completely removed.
  Bed height can be adjusted through a range of 550mm (from 220mm to 770mm) which provides the staff with a vast option of suitable working heights. This significantly reduces the risk of staff injury (i.e. reduced incidence of back,shoulder,neck & knee injuries)
225kg .
Inovia II Care Bed Accessories: Not included in the cost  – call our friendly staff for a quote today.
1. Telescopic safety sides - Telescopic safety sides are split in the middle and can be positioned in 3 different height levels. They can be adjusted across a range of settings to suit individual needs. When raised to the 1st level, they provide a sense of security without restricting mobility. However, when raised to the 2nd level MobiFlex (TSG) will give residents complete safety all round. Should the safety sides encounter an obstacle when the bed is lowered, they will remain in their position in order to avoid damages
2. Foam leather cover for full-length safety sides
3. Foam leather cover for telescopic safety sides
4. Bed extension - A 200mm bed extension with metal support bars or sprung wooden slats for mounting at the foot end of the Inovia II and Inovia II 100.
5. Tray - The Tray rests on the raised safety sides (also for 1000mm mattress base).
6. Reading lamps - Reading lamp, fixed to patient lifting pole with clamp (left) or integrated into existing sleeve for patient lifting pole (right);
Back to all products